Usage of neon underglow lighting is governed by Arizona Revised Statutes, Title 28: Transportation, Chapter 3: Traffic and Vehicle Regulation, Article 16: Equipment.
Is neon underglow legal in Arizona?
Arizona law does not restrict additional aftermarket vehicle lighting which would include neon underglow. Therefore it's our conclusion that in Arizona neon underglow is not illegal, as long as you follow these restrictions:
All lights visible from the front of the car should be white or amber
All lights visible on the rear side of the car should be red
License plate illumination must be white
Flashing lights are prohibited
We also highly recommend avoiding blue and red colors on any aftermarket lights including underbody glow, as these colors are typically used on emergency vehicles.
To stay completely within the law you may want to consider using white or amber lights on the front and front sides of the car, and red lights in the rear sides and rear of the vehicle. Provisions governing these colors concern other vehicle lighting, but may be interpreted as relevant to neon underglow as well.
There are no relevant AZ laws which specifically restrict or prohibit installing car underglow, meaning we consider it legal to use it while driving.
Arizona vehicle lighting laws
Below are all relevant excerpts from Arizona Vehicle Code that limit, restrict or allow certain aftermarket lights to be installed on vehicles.
Arizona State Legislature, 28-921 – Applicability of equipment requirements
[…] B. This article does not prohibit the use of additional parts and accessories on a vehicle if the use is not inconsistent with this article. […]
Arizona State Legislature, 28-931 – Lamp colors
A. Front clearance lamps and those marker lamps and reflectors mounted on the front or on the side near the front of a vehicle shall display or reflect an amber color.

B. Rear clearance lamps and those marker lamps and reflectors mounted on the rear or on the sides near the rear of a vehicle shall display or reflect a red color.

C. All lighting devices and reflectors mounted on the rear of any vehicle shall display or reflect a red color, except that:

1. The stoplight or other signal device may be red, amber or yellow, except on a commercial vehicle, as defined in section 28-2231, the stoplight shall be red and the other signal devices shall be red or amber.

2. The light illuminating the license plate or the light emitted by a backup lamp shall be white.
Arizona State Legislature, 28-940 – Additional lighting equipment
A motor vehicle may be equipped with any of the following:

1. Not more than two side cowl or fender lamps that emit an amber or white light without glare.

2. Not more than one running board courtesy lamp on each side of the motor vehicle that emits a white or amber light without glare.

3. Not more than two backup lamps either separately or in combination with other lamps, but a backup lamp shall not be lighted when the motor vehicle is in forward motion.
Arizona State Legislature, 28-946 – Number of driving lamps required or permitted
B. If a motor vehicle equipped with head lamps as required by this article is also equipped with any auxiliary lamps, spot lamp or other lamp on the front of the motor vehicle projecting a beam of intensity greater than three hundred candlepower, not more than four of any such lamps on the front of a vehicle shall be lighted at any one time when on a highway.
Typical underglow is emitting much less than under 300 candlepower, but check your lights' packaging to verify.
Arizona State Legislature, 28-947 – Special restrictions on lamps
[…] B. A person shall not drive or move a vehicle or equipment on a highway with a lamp or device on the vehicle that is capable of displaying a red or red and blue light or lens visible from directly in front of the center of the vehicle. Lights visible from the front of a vehicle shall be amber or white. […]

C. Except as provided in subsection D or E of this section, flashing lights on motor vehicles are prohibited except either:

1. On authorized emergency vehicles, school buses or snow removal equipment.

2. As warning lights on disabled or parked vehicles.

3. On a vehicle as a means for indicating a right or left turn. […]
State of Arizona Info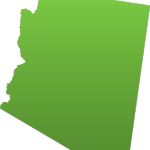 Arizona is a state in the southwestern region of the United States. It is also part of the Western United States and of the Mountain West states. It is the sixth most extensive and the 15th most populous of the 50 states. Its capital and largest city is Phoenix.
Capital: Phoenix
Population: 6,553,255
Area: 113,990 sq mi (295,234 km2)
Cities ▼
Cities in Arizona: Phoenix, Tucson, Scottsdale, Tempe, Sedona, Flagstaff, Mesa, Prescott, Chandler, Glendale, Yuma, Surprise, Peoria, Gilbert, Tombstone, Lake Havasu City, Goodyear, Jerome, Kingman, Bisbee, Payson, Quartzsite, Sierra Vista, Page, Casa Grande, Paradise Valley, Williams, Canelo, Arizona, Queen Creek, Buckeye, Fountain Hills, Bullhead City, Apache Junction, Maricopa, Globe, Show Low, Fort Huachuca, Cottonwood, Cave Creek, Nogales, Winslow, Carefree, Avondale, Willcox, Wickenburg, Safford, Oatman, Arcosanti, Marana, Prescott Valley
Counties ▼
Counties in Arizona: Apache, Cochise, Coconino, Gila, Graham, Greenlee, La Paz, Maricopa, Mohave, Navajo, Pima, Pinal, Santa Cruz, Yavapai, Yuma
---
Have questions about traffic or neon glow laws in Arizona?
You can ask professional lawyers without having to pay hundreds of $$$ of legal fees just for visiting their office! Traffic law experts are on call 24/7 ready to answer any question you have.
Ask legal experts on JustAnswer and get answers immediately.