Usage of neon underglow lighting is governed by Arkansas Code, Title 27: Transportation, Subtitle 3: Motor Vehicles and Their Equipment, Chapter 36: Lighting Regulations, Subchapter 2: Lighting Requirements Generally.
Is neon underglow legal in Arkansas?
Arkansas law does restrict additional aftermarket vehicle lighting which may include neon underglow. Therefore it's our conclusion that in Arkansas neon underglow is legal, but note the following restrictions:
Only two additional ornamental lights are permitted on the front of the vehicle, which must be white
License plate illumination must be white
No red, blue or green lights may be visible from the front of the vehicle
No flashing lights are allowed
Arkansas has very restrictive car lighting and neon underglow restrictions. While on roads ensure that all additional aftermarket lighting on your car (except as noted above) is turned off or you may face penalties.
There are no relevant AR laws which specifically restrict or prohibit installing car underglow, meaning we consider it legal to use it while on private property. However, we still recommend completely avoiding blue, green and red colors on any aftermarket lights including street glow, as these colors are typically used for emergency vehicles.
Arkansas vehicle lighting laws
Below are all relevant excerpts from Arkansas Vehicle Code that limit, restrict or allow certain aftermarket lights to be installed on vehicles.
27-36-208 – Special restrictions on lamps
[…] (b) (1) No person shall drive or move any vehicle or equipment upon any highway with any lamp or device thereon displaying a red, blue, or green light visible from directly in front of the center thereof. […]

(c) Flashing lights are prohibited except on an authorized emergency vehicle, school bus, or on any vehicle as a means of indicating a right or left turn, or the presence of a vehicular traffic hazard requiring unusual care in approaching, overtaking, or passing.
27-36-214. Spot lamps, fog lamps, and auxiliary passing and driving lamps.
(e) Ornamental Light-emitting Diodes White Lights. No motor vehicle may be equipped with more than two (2) ornamental light-emitting diodes white lights mounted on the front of the vehicle.
27-36-215. Tail lamps and reflectors.
[…] (c) (1) (A) Either a tail lamp or a separate lamp shall be so constructed and placed as to illuminate with a white light the rear registration plate and render it clearly legible for a distance of fifty feet (50′) to the rear.

(B) It shall be a violation of this subsection (c) for any other color of light to be displayed around the registration plate or for white light to be excessively used so as to render the registration plate illegible from a distance of less than fifty feet (50′). […]
27-36-217 – Additional lighting equipment generally.
(a)Any motor vehicle may be equipped with not more than two (2) side cowl or fender lamps which shall emit an amber or white light without glare.

(b)Any motor vehicle may be equipped with not more than one (1) running-board courtesy lamp on each side which shall emit a white light without glare. […]
27-36-221. Auxiliary driving lights.
It is unlawful to operate any motor vehicle on a public street or highway with any auxiliary driving lights on unless the lights are original equipment lighting installed by the vehicle manufacturer prior to the initial retail sale of the motor vehicle, fog lamps conforming to the provisions set forth in 27-36-214(b), auxiliary driving or passing lamps conforming to the provisions set forth in 27-36-214(c) and (d), or ornamental light-emitting diodes white lights conforming to the provisions set forth in 27-36-214(e).
Penalties
27-36-222. Penalty for violation of 27-36-221.
Any person violating the provisions of 27-36-221 shall be guilty of a violation and upon conviction shall be punished accordingly.
State of Arkansas Info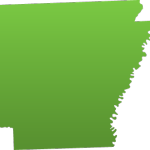 Arkansas is a state located in the Southern region of the United States. The state's diverse geography ranges from the mountainous regions of the Ozark and the Ouachita Mountains, which make up the U.S. Interior Highlands, to the densely forested land in the south known as the Arkansas Timberlands, to the eastern lowlands along the Mississippi River and the Arkansas Delta. Known as "the Natural State", the diverse regions of Arkansas offer residents and tourists a variety of opportunities for outdoor recreation.
Capital: Little Rock
Population: 2,949,131
Area: 53,179 sq mi (137,733 km2)
Cities ▼
Cities in Arkansas: Little Rock, Fayetteville, Hot Springs, Fort Smith, North Little Rock, Bentonville, Jonesboro, Eureka Springs, Conway, Pine Bluff, Springdale, Rogers, Russellville, Searcy, El Dorado, Mountain Home, Hope, Lexa, Texarkana, Harrison, West Memphis, Sherwood, Mountain View, Mena, Cabot, Arkadelphia, Benton, Batesville, Bella Vista, Heber Springs, Van Buren, Siloam Springs, Paragould, Jacksonville, Ozark, Blytheville, Stuttgart, Maumelle, Kingsland, Pennys, Magnolia, Delight, Camden, Murfreesboro, Green Forest, De Witt, Calico Rock, Forrest City, Bryant
Counties ▼
Counties in Arkansas: Arkansas, Ashley, Baxter, Benton, Boone, Bradley, Calhoun, Carroll, Chicot, Clark, Clay, Cleburne, Cleveland, Columbia, Conway, Craighead, Crawford, Crittenden, Cross, Dallas, Desha, Drew, Faulkner, Franklin, Fulton, Garland, Grant, Greene, Hempstead, Hot Spring, Howard, Independence, Izard, Jackson, Jefferson, Johnson, Lafayette, Lawrence, Lee, Lincoln, Little River, Logan, Lonuke, Madison, Marion, Miller, Mississippi, Monroe, Montgomery, Nevada, Newton, Quachita, Perry, Phillips, Pike, Poinsett, Polk, Pope, Prairie, Pulaski, Randolph, St. Francis, Saline, Scott, Searcy, Sebastian, Sevier, Sharp, Stone, Union, Van Buren, Washington, White, Woodruff, Yell
---
Have questions about traffic or neon glow laws in Arkansas?
You can ask professional lawyers without having to pay hundreds of $$$ of legal fees just for visiting their office! Traffic law experts are on call 24/7 ready to answer any question you have.
Ask legal experts on JustAnswer and get answers immediately.