Usage of neon underglow lighting is governed by Missouri Revised Statutes, Title XIV: Motor Vehicles, Chapter 307: Vehicle Equipment Regulations, Light Regulations.
Is neon underglow legal in Missouri?
Missouri law does not restrict additional vehicle lighting which would include neon underglow. Therefore it's our conclusion that in Missouri neon underglow is not illegal, taking into account the following restrictions:
no red color may be visible from the front of the vehicle
no flashing neons are permitted
license plate illumination must be white
We also recommend avoiding colors red and blue on any aftermarket lights installed on your car including underbody glow. State of Missouri does not specifically restrict blue color, but most states prohibit it since it can be mistaken for a police or other emergency vehicle.
There are no relevant MO laws which specifically restrict or prohibit installing neon car underglow, meaning we consider it legal to use it while driving.
Missouri vehicle lighting laws
Below are all relevant excerpts from Missouri Vehicle Code that limit, restrict or allow certain aftermarket lights to be installed on vehicles.
Section 307.075 – Taillamps, reflectors–violations, penalty.
1. Every motor vehicle and every motor-drawn vehicle shall be equipped with at least two rear lamps, not less than fifteen inches or more than seventy-two inches above the ground upon which the vehicle stands, which when lighted will exhibit a red light plainly visible from a distance of five hundred feet to the rear. Either such rear lamp or a separate lamp shall be so constructed and placed as to illuminate with a white light the rear registration marker and render it clearly legible from a distance of fifty feet to the rear.
Section 307.095 – Colors of various lamps–restriction of red lights, penalty.
1. Headlamps, when lighted, shall exhibit lights substantially white in color; auxiliary lamps, cowllamps and spotlamps, when lighted, shall exhibit lights substantially white, yellow or amber in color. No person shall drive or move any vehicle or equipment, except a school bus when used for school purposes or an emergency vehicle upon any street or highway with any lamp or device thereon displaying a red light visible from directly in front thereof.

2. Notwithstanding the provisions of section 307.120, violation of this section is an infraction.
Section 307.100 – Limitations on lamps other than headlamps–flashing signals prohibited except on specified vehicles–penalty.

[…] flashing warning signals […] are prohibited on other motor vehicles, motorcycles and motor-drawn vehicles except as a means for indicating a right or left turn.
Penalties
307.120- Penalty for violations.
Any person violating any of the provisions of sections 307.020 to 307.120 shall, upon conviction thereof, be deemed guilty of a misdemeanor.
State of Missouri Info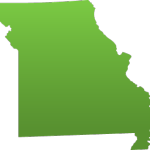 Missouri is a U.S. state located in the Midwestern United States. It's the 21st most extensive and the 18th most populous of the 50 United States. Missouri comprises 114 counties and the independent city of St. Louis. The four largest urban areas are St. Louis, Kansas City, Springfield, and Columbia, and the Missouri's capital is Jefferson City.
Capital: Jefferson City
Population: 6,021,988
Area: 69,704 sq mi (180,533 km2)
Cities ▼
Cities in Missouri: St. Louis, Kansas City, Branson, Springfield, Jefferson City, Columbia, Joplin, Saint Charles, Independence, Cape Girardeau, Lee's Summit, Saint Peters, Chesterfield, Florissant, Blue Springs, O'Fallon, Liberty, Hollister, Wentzville, Saint Joseph, Ballwin, Rolla, Hannibal, Youngers, Humphreys, Hermann, Maryland Heights, Marceline, Poplar Bluff, Sikeston, Warrensburg, Hazelwood, Sedalia, Kirksville, Osage Beach, Town and Country, Kirkwood, Clayton, West Plains, Creve Coeur, Rington, Eminence, Battlefield, Fenton, Ozark, Webster Groves, Bridgeton, Nixa, Wildwood, Belton
Counties ▼
Counties in Missouri: Adair, Andrew, Atchison, Audrain, Barry, Barton, Bates, Benton, Bollinger, Boone, Buchanan, Butler, Caldwell, Callaway, Camden, Cape Girardeau, Carroll, Carter, Cass, Cedar, Chariton, Christian, Clark, Clay, Clinton, Cole, Cooper, Crawford, Dade, Dallas, Daviess, Dent, DeKalb, Douglas, Dunklin, Franklin, Gasconade, Gentry, Greene, Grundy, Harrison, Henry, Hickory, Holt, Howard, Howell, Iron, Jackson, Jasper, Jefferson, Johnson, Knox, Laclede, Lafayette, Lawrence, Lewis, Lincoln, Linn, Livingstone, Macon, Madison, Maries, Marion, McDonald, Mercer, Miller, Mississippi, Moniteau, Monroe, Montgomery, Morgan, New Madrid, Newton, Nodaway, Oregon, Osage, Ozark, Pemiscot, Perry, Pettis, Phelps, Pike, Platte, Polk, Pulaski, Putnam, Ralls, Randolph, Ray, Reynolds, Ripley , Saline, Schuyler, Scotland, Scott, Shannon, Shelby, St. Charles, St. Clair, St. Francois, St. Louis, St. Louis City, Ste. Genevieve, Stoddard, Stone, Sullivan, Taney, Texas, Vernon, Warren, Washington, Wayne, Webster, Worth, Wright
---
Have questions about traffic or neon glow laws in Missouri?
You can ask professional lawyers without having to pay hundreds of $$$ of legal fees just for visiting their office! Traffic law experts are on call 24/7 ready to answer any question you have.
Ask legal experts on JustAnswer and get answers immediately.