Usage of neon underglow lighting is governed by Louisiana Revised Statutes, Title 32: Motor Vehicles and Traffic Regulation, Sections 301 to 334.

Is neon underglow legal in Louisiana?
Louisiana law does not prohibit using additional vehicle lighting which would include neon underglow. Therefore it's our conclusion that in Louisiana neon underglow is not illegal, as long as you avoid the following restrictions:
Blue-colored lights are illegal
Flashing lights are not permitted.
Using neon lights of any color except white near license plate is not allowed.
Red or green light must not be visible from the front of the car.
Do not display any combination of white, red, and blue colored lights.
There are no relevant LA laws which specifically restrict or prohibit installing car underglow, meaning we consider it legal to use it while driving.
If your undercarriage lights are able to change color and in case you're stopped by a police officer do not tell them you can change colors, particularly to blue: equipping a vehicle with any aftermarket lighting capable of emitting blue color is illegal.
Louisiana vehicle lighting laws
Below are all relevant excerpts from Louisiana Code that limit, restrict or allow certain aftermarket lights to be installed on vehicles.
§304.  Tail lamps
[…] C.  Either a tail lamp or a separate lamp shall be so constructed and placed as to illuminate with a white light the rear registration plate and render it clearly legible from a distance of fifty feet to the rear.  Any tail lamp or tail lamps, together with any separate lamp for illuminating the rear registration plate, shall be so wired as to be lighted whenever the head lamps or auxiliary driving lamps are lighted.
§309.  Color of clearance lamps, identification lamps, side marker lamps, backup lamps and reflectors
[…] C.  All lighting devices and reflectors mounted on the rear of any vehicle shall display or reflect a red color, except the stop light, which must be red, or other signal device, which may be red, amber or yellow, and except that the light illuminating the license plate shall be white and the light emitted by a backup lamp shall be white.
As per Vehicle Light Definitions this section should not pertain to underglow, but you may still want to consider using red underglow near the rear of your car.
§318.  Audible and visual signals on certain vehicles
D.  A police vehicle when used as an authorized emergency vehicle may, but need not, be equipped with alternately flashing red lights specified herein. […]

F.(1)  In lieu of the alternating flashing red lights in the front of the vehicle, or of the large revolving red light on the roof of the vehicle, all law enforcement officers are hereby authorized to equip, operate, and use motor vehicles with blue colored electric emergency lights in the exercise of their official duties.  These lights shall have sufficient intensity to be visible at five hundred feet in normal sunlight.

(2)  All persons other than law enforcement officers on official duty are prohibited from equipping, operating, or using motor vehicles with blue colored electric lights thereon.
§327.  Special restrictions on lamps
[…] B.  No person shall drive or move any vehicular equipment upon any highway of this state with any lamp or device thereon displaying a red or green light visible from directly in front of the center thereof.

C.  Flashing lights are prohibited except on authorized emergency vehicles, school buses, or on any vehicle as a means of indicating a right or left turn, or the presence of a vehicular traffic hazard requiring unusual care in approaching, overtaking or passing.

D.  No person shall sell a dashboard, hood, vehicle front grill, or vehicle roof mounted emergency light that emits a blue or red glow, or that emits a glow in any combination of the colors red, white, and blue, to any person who is not a peace officer, a firefighter, or a person employed in the performance of emergency or public utility services.  No person shall possess such an emergency light except peace officers, firefighters, public utility, and emergency personnel.
§333.  Certain lights around license plates prohibited
A.  Except for antique automobiles, the use of neon lights around license plates, or the use of any other lights which obscure the clear view of motor vehicle license plates, for motor vehicles is prohibited.
State of Louisiana Info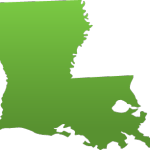 Louisiana is a state located in the southern region of the United States of America. Louisiana is the 31st most extensive and the 25th most populous of the 50 United States. Its capital is Baton Rouge and largest city is New Orleans. Louisiana is the only state in the U.S. with political subdivisions termed parishes, which are local governments equivalent to counties. The largest parish by population is East Baton Rouge Parish, and the largest by land area is Cameron Parish.
Capital: Baton Rouge
Population: 4,601,893
Area: 51,843 sq mi (135,382 km2)
Cities ▼
Cities in Louisiana: New Orleans, Baton Rouge, Shreveport, Lake Charles, West Monroe, Monroe, Houma, Alexandria, Lafayette, Slidell, Bossier City, Natchitoches, Kenner, New Iberia, Covington, Thibodaux, Ruston, Mandeville, Coushatta, Breaux Bridge, Grand Isle, Opelousas, Clarks, Hammond, Sulphur, Morgan City, Gretna, Denham Springs, Eunice, St. Francisville, Bogalusa, Gonzales, Little Woods, Bayou Pigeon, Leesville, Kinder, Tallulah, St. Bernard Parish, Abbeville, Ikes, Pineville, Ponchatoula, Zachary, Minden, De Ridder, Venice, Holly Beach, Eros, Broussard, Abita Springs
Counties ▼
Counties in Louisiana: (Parishes) Acadia, Allen, Ascension, Assumption, Avoyelles, Beauregard, Bienville, Bossier, Caddo, Calcasieu, Caldwell, Cameron, Catahoula, Claiborne, Concordia, De Soto, East Baton Rouge, East Carroll, East Feliciana, Evangeline, Franklin, Grant, Iberia, Iberville, Jackson, Jefferson, Jefferson Davis, Lafayette, Lafourche, La Salle, Lincoln, Livingston, Madison, Morehouse, Natchitoches, Orleans, Quachita, Plaquemines, Pointe Coupee, Rapides, Red River, Richland, Sabine, Saint Bernard, Saint Charles, Saint Helena, Saint James, Saint John the Baptist, Saint Landry, Saint Martin, Saint Mary, Saint Tammany, Tangipahoa, Tensas, Terrebonne, Union, Vermillion, Vernon, Washington, Webster, West Baton Rouge, West Carroll, West Feliciana, Winn
---
Have questions about traffic or neon glow laws in Louisiana?
You can ask professional lawyers without having to pay hundreds of $$$ of legal fees just for visiting their office! Traffic law experts are on call 24/7 ready to answer any question you have.
Ask legal experts on JustAnswer and get answers immediately.