Usage of neon underglow lighting is governed by Oklahoma Code, Title 47: Motor Vehicles, Chapter 12: Equipment of Vehicles, Article 2: Lamps and Lighting Devices.
Is neon underglow legal in Oklahoma?
Oklahoma law does not restrict additional vehicle lighting which would include neon underglow. Therefore it's our conclusion that in Oklahoma neon underglow is not illegal, as long as you avoid the following restrictions:
No flashing lights are permitted
No red or blue lights may be visible from the front of the vehicle
Blue lights are completely prohibited
License plate illumination must be white, and no additional lights near the license plate are permitted
We highly recommend completely avoiding blue and red colors on any aftermarket lighting installed on your car to avoid being mistaken as an emergency vehicle. Oklahoma law for violating these provisions is severe and can result in a fine of up to $2,000 and potentially include jail time.
We know many street glow enthusiasts like it, but make sure to also completely avoid installing any lights on or near license plates. Illumination of the registration plates must be white, but the law does not permit additional lighting installed near it.
There are no relevant OK laws which specifically restrict or prohibit installing car underglow, meaning we consider it legal to use it while driving.
Oklahoma vehicle lighting laws
Below are all relevant excerpts from Oklahoma Vehicle Code that limit, restrict or allow certain aftermarket lights to be installed on vehicles.
Section 12-204.1 – Rear License Plate Lamps
A. No more than two separate lamps with a white light shall be so constructed and placed as to illuminate the rear license plate and render it clearly legible from a distance of fifty (50) feet to the rear.

[…] C. The operation of a vehicle upon which the license plate is surrounded or framed, partially or in whole, by any additional lamp or lamps or otherwise lighted by any additional lamp or lamps, shall be a violation of this section. In addition, display and visibility of the rear license plate shall be in compliance with paragraph 2 of subsection A of Section 1113 of this title.
Section 12-218 – Audible and Visual Signals on Law Enforcement and Authorized Emergency Vehicles
A. Every authorized emergency vehicle shall, in addition to any other equipment and distinctive markings required by this title, be equipped with flashing red or blue lights or a combination of flashing red and blue lights. The lights shall be visible at five hundred (500) feet in normal sunlight .

B. A law enforcement vehicle when used as an authorized emergency vehicle may but need not be equipped with alternately-flashing red or blue lights specified herein. An unmarked vehicle used as a law enforcement vehicle for routine traffic enforcement shall be equipped with the following combination of lights:

1. Three flashing red, blue, or a combination of red and blue lights emitting the flashing lights to the front of the vehicle;

2. Two flashing white lights emitting the flashing white lights to the front of the vehicle;

3. Flashing red, blue, white or any combination of red, blue or white lights placed at and emitting the flashing lights from the four corners of the vehicle so that they are visible for three hundred sixty (360) degrees; and

4. One flashing red, blue, amber, or any combination of red, blue, or amber lights emitting the flashing light to the rear of the vehicle.
Section 12-227 – Special Restriction on Lamps
[…] no person shall drive or move any vehicle or equipment upon any highway with any lamp or device thereon displaying or capable of displaying a red or blue light visible from directly in front of the center thereof.

C. Flashing lights are prohibited except on:

1. An authorized emergency vehicle, […] indicating a right or left turn […] indicating the presence of a vehicular traffic hazard […]

D. Blue lights are prohibited except as allowed in Sections 12-218, 12-218.1, and 12-229 of this title.
Section 12-605 – Headlamps required – Permissible auxiliary lighting. (motorcycles)
A. Every motorcycle shall be equipped with at least one headlamp emitting a white light which shall comply with the applicable requirements and limitations of Section 12-203 of this title and of Sections 12-602.1, 12-203.4, 12-227 and 12-228 of this title.

B. Every headlamp upon every motorcycle shall be located at a height of not more than fifty-four (54) inches nor less than twenty-two (22) inches to be measured as set forth in subsection B of Section 12-202 of this title.

C. Subject to subsections A and B of this section, a motorcycle may be equipped with, and an operator of a motorcycle may use, the following auxiliary lighting:

1. Standard bulb running lights; or

2. Light-emitting diode pods and strips.

D. Lighting under subsection C of this section shall be:

1. Nonblinking;

2. Nonflashing;

3. Nonoscillating; and

4. Directed toward the engine and the drive train of the motorcycle to prevent interference with the driver's operation of the vehicle.
Penalties
The penalties for violating specific lighting laws in Section 12-227 are severe.
E. Any person violating the provisions of subsection B, C or D of this section shall, upon conviction, be guilty of a misdemeanor punishable by imprisonment in the county jail not exceeding six (6) months, or by a fine not exceeding Two Thousand Dollars ($2,000.00), or by both such fine and imprisonment.
State of Oklahoma Info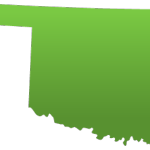 Oklahoma is a state located in West South Central United States. Oklahoma is the 20th most extensive and the 28th most populous of the 50 United States. A major producer of natural gas, oil, and agriculture, Oklahoma relies on an economic base of aviation, energy, telecommunications, and biotechnology. It has one of the fastest growing economies in the nation, ranking among the top states in per capita income growth and gross domestic product growth. Oklahoma City and Tulsa serve as Oklahoma's primary economic anchors, with nearly two thirds of Oklahomans living within their metropolitan statistical areas.
Capital: Oklahoma City
Population: 3,814,820
Area: 69,898 sq mi (181,195 km2)
Cities ▼
Cities in Oklahoma: Oklahoma City, Tulsa, Norman, Edmond, Broken Arrow, Stillwater, Lawton, Moore, Fort Sill, Muskogee, Enid, Bartlesville, Owasso, Tahlequah, Ardmore, Midwest City, Claremore, Altus, Anadarko, Ada, El Reno, Guthrie, Shawnee, Picher, Hollister, Yukon, McAlester, Ponca City, Durant, Weatherford, Chickasha, Sentinel, Cushing, Toppers, Elk City, Broken Bow, Okay, Tishomingo, Miami, Jenks, Duncan, Del City, Sapulpa, Pawhuska, McLoud, Sand Springs, Boise City, Pryor Creek, Valliant, Woodward
Counties ▼
Counties in Oklahoma: Adair, Alfalfa, Atoka, Beaver, Beckham, Blaine, Bryan, Caddo, Canadian, Carter, Cherokee, Choctaw, Cimarron, Cleveland, Coal, Comanche, Cotton, Craig, Creek, Custer, Day, Delaware, Dewey, Ellis, Garfield, Garvin, Grady, Grant, Greer, Harmon, Harper, Haskell, Hughes, Jackson, Jefferson, Johnston, Kay, Kingfisher, Kiowa, Latimer, LeFlore, Lincoln, Logan, Love, Major, Marshall, Mayes, McClain, McCurtain, McIntosh, Murray, Muskogee, Noble, Nowata, Okfuskee, Oklahoma, Okmulgee, Osage, Ottawa, Pawnee, Payne, Pittsburg, Pontotoc, Pottawatomie, Pushmataha, Roger Mills, Rogers, Seminole, Sequoyah, State Level Sites, Stephens, Texas, Tillman, Tulsa, Wagoner, Washington, Washita, Woods, Woodward
---
Have questions about traffic or neon glow laws in Oklahoma?
You can ask professional lawyers without having to pay hundreds of $$$ of legal fees just for visiting their office! Traffic law experts are on call 24/7 ready to answer any question you have.
Ask legal experts on JustAnswer and get answers immediately.