Usage of neon underglow lighting is governed by Virginia Code, Title 46.2: Motor Vehicles, Subtitle III: Operation, Chapter 10: Motor Vehicle and Equipment Safety, Article 3: Lights and Turn Signals.
Is neon underglow legal in Virginia?
Virginia law restricts additional aftermarket vehicle lighting which includes neon underglow. Therefore it's our conclusion that in Virginia neon underglow is not legal.
Only permissible aftermarket lights on civilian vehicles is an illumination sign on certain delivery vehicles (see § 46.2-1021.1. below).
You may not use underbody lights while driving, but you may still use it while not on a public road. In that case make sure to avoid using colors red and blue on any aftermarket lights installed on your car, and ensure they are not flashing or rotating.
Additional restriction in VA laws requires underglow to be covered as well as unlit, and due to this impracticality we do not recommend installing underglow or any other aftermarket lighting on your car.
Virginia vehicle lighting laws
Below are all relevant excerpts from Virginia Vehicle Code that limit, restrict or allow certain aftermarket lights to be installed on vehicles.
§ 46.2-1020. Other permissible lights.
Any motor vehicle may be equipped with fog lights, not more than two of which can be illuminated at any time, one or two auxiliary driving lights if so equipped by the manufacturer, two daytime running lights, two side lights of not more than six candlepower, an interior light or lights of not more than 15 candlepower each, and signal lights. […]

Unless such lighting device is both covered and unlit, no motor vehicle which is equipped with any lighting device other than lights required or permitted in this article, required or approved by the Superintendent, or required by the federal Department of Transportation shall be operated on any highway in the Commonwealth. […]
§ 46.2-1021.1. Additional lights permitted on certain privately owned cars.
Privately owned passenger cars used for home delivery of commercially prepared food may be equipped with one steady-burning white light for the nighttime illumination of a sign identifying the business delivering the food. Such sign shall not utilize primarily green, red or blue colors.
§ 46.2-1022. Flashing blue, red and blue, blue and white, or red, white and blue warning lights.
Certain Department of Military Affairs vehicles and certain Virginia National Guard vehicles designated by the Adjutant General, when used in state active duty to perform particular law-enforcement functions, Department of Corrections vehicles designated by the Director of the Department of Corrections, and law-enforcement vehicles may be equipped with flashing, blinking, or alternating blue, blue and red, blue and white, or red, white, and blue combination warning lights of types approved by the Superintendent. Such warning lights may be of types constructed within turn signal housings or motorcycle headlight housings, subject to approval by the Superintendent.
Virginia State Police, Safety Division – FAQ
VSP's Safety Division has a Frequently Asked Questions section with the following:
Are neon lights legal for use on vehicles in Virginia?

Neon lights are illegal anywhere on or in a motor vehicle in Virginia, unless they are covered and unlit while the vehicle is being operated on a public highway.

NOTE: If the neon lights are mounted under the vehicle, the vehicle is not considered a proper cover. A cover would have to be made specifically for the purpose of covering these lights.
That means undercarriage lighting can only be on a vehicle if it is both covered and unlit. Since having underglow covered at all times may be impractical, we do not recommend installing any additional lighting on your car.
State of Virginia Info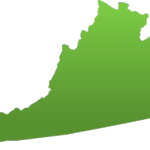 Virginia is a U.S. state located in the South Atlantic region of the United States. The geography and climate of the Commonwealth are shaped by the Blue Ridge Mountains and the Chesapeake Bay, which provide habitat for much of its flora and fauna. The capital of the Commonwealth is Richmond; Virginia Beach is the most populous city, though Fairfax County is the most populous political subdivision.
Capital: Richmond
Population: 8,185,866
Area: 42,774.2 sq mi (110,785.67 km2)
Cities ▼
Cities in Virginia: Virginia Beach, Norfolk, Richmond, Charlottesville, Newport News, Alexandria, Williamsburg, Chesapeake, Roanoke, Fredericksburg, Fairfax, Hampton, Manassas, Portsmouth, Falls Church, Lynchburg, Jamestown, Suffolk, Blacksburg, Harrisonburg, Leesburg, Winchester, Herndon, Quantico, Ashburn, Petersburg, Woodbridge, Staunton city, McLean, Vienna, Danville, Lexington city, Chincoteague, Altavista, Langley, Front Royal, Christiansburg, Midlothian, Abingdon, Culpeper, Warrenton, Waynesboro city, Farmville, Emporia, Glen Allen, Tangier, Stafford, Colonial Heights, Hot Springs, Salem
Counties ▼
Counties in Virginia: Accomack, Albemarle, Alexandria, Alleghany, Amelia, Amherst, Appomattox, Arlington, Augusta, Bath, Bedford, Bland, Botetourt, Bristol, Brunswick, Buchanan, Buckingham, Buena Vista, Campbell, Caroline, Carroll, Charles City, Charlotte, Charlottesville, Chesterfield, Clarke, Clifton Forge, Colonial Heights, Covington, Craig, Culpeper, Cumberland, Danville, Dickenson, Dinwiddie, Eastern Shore, Elizabeth City, Essex, Fairfax, Fairfax City, Falls Church, Fauquier, Floyd, Fluvanna, Franklin, Franklin, Frederick, Fredericksburg, Galax, Giles, Gloucester, Goochland, Grayson, Greene, Greensville, Halifax, Hampton, Hanover, Harrisonburg, Henrico, Henry, Highland, Hopewell, Isle of Wight, James City, King and Queen, King George, King William, Lancaster, Lee, Lexington, Loudoun, Louisa, Lunenburg, Lynchburg, Madison, Manassas, Manassas Park, Martinsville, Mathews, Mecklenburg, Middlesex, Montgomery, Nansemond, Nelson, New Kent, Newport News, Norfolk, Northampton, Northumberland, Norton, Nottoway, Orange, Page, Patrick, Petersburg, Pittsylvania, Poquoson, Portsmouth, Powhatan, Prince Edward, Prince George, Prince William, Princess Anne, Pulaski, Radford, Rappahannock, Richmond, Roanoke, Rockbridge, Rockingham, Russell, Salem, Scott, Shenandoah, Smyth, Southampton, Spotsylvania, Stafford, Staunton, Suffolk, Surry, Sussex, Tazewell, Tidewater Area, Virginia Beach, Warren, Warwick, Washington, Waynesboro, Westmoreland, Williamsburg, Winchester, Wise, Wythe, York
---
Have questions about traffic or neon glow laws in Virginia?
You can ask professional lawyers without having to pay hundreds of $$$ of legal fees just for visiting their office! Traffic law experts are on call 24/7 ready to answer any question you have.
Ask legal experts on JustAnswer and get answers immediately.