Usage of neon underglow lighting is governed by West Virginia Code, Chapter 17C: Traffic Regulations and Laws of the Road, Article 15: Equipment.
Is neon underglow legal in West Virginia?
West Virginia laws do not restrict additional aftermarket vehicle lighting which would include neon underglow. Therefore it's our conclusion that in West Virginia neon underglow is not illegal, as long as you adhere to the following restrictions:
No flashing, rotating or oscillating lights are allowed.
Only permitted color visible from the rear of the vehicle is red (exception for license plate illumination, which must be white).
Only allowed color visible from the front of the car is white or amber.
Blue (or blue and red) flashing lights are reserved for police vehicles, and red flashing lights for other emergency vehicles, therefore we recommend avoiding these colors on all after-market lighting on your car, even if they're not flashing or rotating.
Furthermore West Virginia specifically allows motorcycle underglow, as long as it's white or amber, and not flashing or rotating.
There are no relevant WV laws which specifically restrict or prohibit installing car underglow, meaning we consider it legal to use it while driving.
West Virginia vehicle lighting laws
Below are all relevant excerpts from West Virginia Vehicle Code that limit, restrict or allow certain aftermarket lights to be installed on vehicles.
§17C-15-1. Unsafe and improperly equipped vehicles; additional parts and accessories; applicability of article to farm and road equipment.
[…] (b) Nothing contained in this article shall be construed to prohibit the use of additional parts and accessories on any vehicle not inconsistent with the provisions of this article.
This provision is important to note since it essentially permits using additional aftermarket lighting equipment as long as it's not in violation of any other regulations.
§17C-15-10. Color of clearance lamps, side marker lamps and reflectors.
(a) Front clearance lamps and those marker lamps and reflectors mounted on the front or on the side near the front of a vehicle shall display or reflect an amber color.

(b) Rear clearance lamps and those marker lamps and reflectors mounted on the rear or on the sides near the rear of a vehicle shall display or reflect a red color.

(c) All lighting devices and reflectors mounted on the rear of any vehicle shall display or reflect a red color, except the stop light or other signal device, which may be red, amber, or yellow, and except that the light illuminating the license plate or the light emitted by a back-up light shall be white.
§17C-15-19. Additional lighting equipment.
(a) Any motor vehicle may be equipped with not more than two side cowl or fender lamps which shall emit an amber or white light without glare.

(b) Any motor vehicle may be equipped with not more than one running board courtesy lamp on each side thereof which shall emit a white or amber light without glare.

[…] (d) Any vehicle may be equipped with lamps which may be used for the purpose of warning the operators of other vehicles of the presence of a vehicular traffic hazard […] shall display simultaneously flashing white or amber lights, or any shade of color between white and amber.
§17C-15-23. Lighting equipment on motorcycles, motor-driven cycles and mopeds.
(4) (A) Subject to paragraph (B) of this subdivision, a motorcycle may be equipped with, and an operator of a motorcycle may use, the following auxiliary lighting:

(I) Amber and white illumination;

(ii) Standard bulb running lights; or

(iii) Light-emitting diode pods and strips.

(B) Lighting under this subdivision shall be:

(I) Nonblinking;

(ii) Nonflashing;

(iii) Nonoscillating; and

(iv) Directed toward the engine and the drive train of the motorcycle to prevent interference with the driver's operation of the vehicle.
§17C-15-26. Special restrictions on lamps.
(b) No person may drive or move any vehicle or equipment upon any highway with any lamp or device on the vehicle displaying other than a white or amber light visible from directly in front of the center of the vehicle except as authorized by subsection (d) of this section.

(c) Except as authorized in subsections (d) and (g) of this section and authorized in section nineteen of this article, flashing lights are prohibited on motor vehicles: Provided, That any vehicle as a means for indicating right or left turn or any vehicle as a means of indicating the same is disabled or otherwise stopped for an emergency may have blinking or flashing lights.
State of West Virginia Info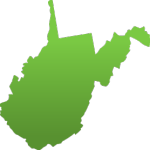 West Virginia is a U.S. state located in the Appalachian region of the Southern United States. It is bordered by Virginia to the southeast, Kentucky to the southwest, Ohio to the northwest, Pennsylvania to the north, and Maryland to the northeast. West Virginia is the 41st largest by area and the 38th most populous of the 50 United States. The capital and largest city is Charleston.
Capital: Charleston
Population: 1,855,413
Area: 24,230 sq mi (62,755 km2)
Cities ▼
Cities in West Virginia: Charleston, Morgantown, Huntington, Martinsburg, Wheeling, Beckley, Parkersburg, Harpers Ferry, Clarksburg, Snowshoe, Charles Town, Fairmont, Bluefield, Elkins, Lewisburg, Bath, Sunlight, Shepherdstown, Point Pleasant, Weirton, Spice, Buckhannon, Princeton, Bridgeport, Falling Waters, Reader, Moundsville, White Sulphur Springs, Hurricane, Paw Paw, Summersville, Mannington, Barboursville, Poca, Sophia, Coalwood, Fayetteville, Nitro, Woodman, Bomont, West Virginia, Keyser, Welch, Green Bank, Kabletown, Weston, Logan, New Martinsville, Oceana, St. Albans, Williamson
Counties ▼
Counties in West Virginia: Barbour, Berkeley, Boone, Braxton, Brooke, Cabell, Calhoun, Clay, Doddridge, Fayette, Gilmer, Grant, Greenbrier, Hampshire, Hancock, Hardy, Harrison, Jackson, Jefferson, Kanawha, Lewis, Lincoln, Logan, Marion, Marshall, Mason, McDowell, Mercer, Mineral, Mingo, Monongalia, Monroe, Morgan, Nicholas, Ohio, Pendleton, Pleasants, Pocahontas, Preston, Putnam, Raleigh, Randolph, Ritchie, Roane, Summers, Taylor, Tucker, Tyler, Upshur, Wayne, Webster, Wetzel, Wirt, Wood, Wyoming
---
Have questions about traffic or neon glow laws in West Virginia?
You can ask professional lawyers without having to pay hundreds of $$$ of legal fees just for visiting their office! Traffic law experts are on call 24/7 ready to answer any question you have.
Ask legal experts on JustAnswer and get answers immediately.