Using neon underglow lighting is governed by Florida Statutes, Title XXIII: Motor Vehicles, Chapter 316: State Uniform Traffic Control.

Is neon underglow legal in Florida?
Florida law does not restrict additional aftermarket vehicle lighting which would include neon underglow. Therefore it's our conclusion that in Florida neon underglow is not illegal, as long as you follow these restrictions:
Red lights may not be visible from the front of the car
Blue colored lights are prohibited on any part of the vehicle
All lights on the rear of the vehicle must be red
License plate illumination must be white
Flashing lights are prohibited
We also highly recommend avoiding red and green colors on any aftermarket lights including underbody glow, as these colors are typically used on emergency vehicles.
There are no relevant FL laws which specifically restrict or prohibit installing car underglow, meaning we consider it legal to use it while driving.
Florida vehicle lighting laws
Below are all relevant excerpts from Florida Vehicle Code that limit, restrict or allow certain aftermarket lights including neon undercarriage lighting to be installed on vehicles.
316.215 Scope and effect of regulations
[…] (2) Nothing contained in this chapter shall be construed to prohibit the use of additional parts and accessories on any vehicle not inconsistent with the provisions of this chapter.
This provision is important to note, because it essentially permits using additional lighting equipment as long as it's not in violation of other regulations.
316.224 Color of clearance lamps, identification lamps, side marker lamps, backup lamps, reflectors, and deceleration lights.
(1) Front clearance lamps, identification lamps, and those marker lamps and reflectors mounted on the front or on the side near the front of a vehicle shall display or reflect an amber color.

(2) Rear clearance lamps, identification lamps, and those marker lamps and reflectors mounted on the rear or on the sides near the rear of a vehicle shall display or reflect a red color.

(3) All lighting devices and reflectors mounted on the rear of any vehicle shall display or reflect a red color, except the stop light or other signal device, which may be red, amber, or yellow, and except that the light illuminating the license plate shall be white and the light emitted by a backup lamp shall be white or amber. Deceleration lights as authorized by s. 316.235(5) shall display an amber color.
316.235 Additional lighting equipment
(1) Any motor vehicle may be equipped with not more than two side cowl or fender lamps which shall emit an amber or white light without glare.

(2) Any motor vehicle may be equipped with not more than one running board courtesy lamp on each side thereof which shall emit a white or amber light without glare.

(3) Any motor vehicle may be equipped with one or more backup lamps either separately or in combination with other lamps, but any such backup lamp or lamps shall not be lighted when the motor vehicle is in forward motion. […]
To stay completely within the law you may want to consider using white or amber lights on the front and front sides of the car, and red lights in the rear sides and rear of the vehicle. Provisions above governing these colors concern other lights (see: Vehicle Light Definitions), but may be interpreted as relevant to neon underglow as well.
316.2397 Certain lights prohibited; exceptions
(1) No person shall drive or move or cause to be moved any vehicle or equipment upon any highway within this state with any lamp or device thereon showing or displaying a red or blue light visible from directly in front thereof except for certain vehicles hereinafter provided.

(2) It is expressly prohibited for any vehicle or equipment, except police vehicles, to show or display blue lights. However, vehicles owned, operated, or leased by the Department of Corrections or any county correctional agency may show or display blue lights when responding to emergencies […]

(7) Flashing lights are prohibited on vehicles except as a means of indicating a right or left turn, to change lanes, or to indicate that the vehicle is lawfully stopped or disabled upon the highway
Penalties
Violation of state laws for vehicle lighting is considered a noncriminal traffic infraction, punishable as a nonmoving violation (316.215).
State of Florida Info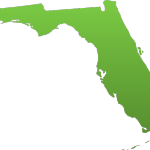 Florida is a state in the southeastern region of the United States, bordered to the west by the Gulf of Mexico, to the north by Alabama and Georgia, to the east by the Atlantic Ocean, and to the south by the Straits of Florida. Florida is the 22nd most extensive, the 4th most populous, and the 8th most densely populated of the 50 United States. The state capital is Tallahassee, the largest city is Jacksonville, and the largest metropolitan area is the Miami metropolitan area.
Capital: Tallahassee
Population: 19,317,568
Area: 65,755 sq mi (170,304 km2)
Cities ▼
Cities in Florida: Miami, Orlando, Tampa, Fort Lauderdale, Jacksonville, Key West, Sarasota, Naples, Fort Myers, Tallahassee, St. Petersburg, Miami Beach, St. Augustine, Destin, West Palm Beach, Boca Raton, Pensacola, Daytona Beach, Clearwater, Kissimmee, Gainesville, Bradenton, Hollywood, Palm Beach, Cape Coral, Marco Island, Ocala, The Villages, Port St. Lucie, Sanibel, Delray Beach, Panama City Beach, Panama City, Vero Beach, Lakeland, Cocoa Beach, Melbourne, Pompano Beach, Winter Park, Sunrise, Venice, Punta Gorda, Fort Myers Beach, Jupiter, Coral Gables, Everglades, Stuart, Pembroke Pines, Clearwater Beach, Islamorada
Counties ▼
Counties in Florida: Alachua, Baker, Bay, Bradford, Brevard, Broward, Calhoun, Charlotte, Citrus, Clay, Collier, Columbia, DeSoto, Dixie, Duval, Escambia, Flagler, Franklin, Gadsden, Gilchrist, Glades, Gulf, Hamilton, Hardee, Hendry, Hernando, Highlands, Hillsborough, Holmes, Indian River, Jackson, Jefferson, Lafayette, Lake, Lee, Leon, Levy, Liberty, Madison, Manatee, Marion, Martin, Miami-Dade, Monroe, Nassau, Okaloosa, Okeechobee, Orange, Osceola, Palm Beach, Pasco, Pinellas, Polk, Putnam, Santa Rosa, Sarasota, Seminole, St. Johns, Sumter, Suwannee, Taylor, Union, Volusia, Wakulla, Walton, Washington
---
Have questions about traffic or neon glow laws in Florida?
You can ask professional lawyers without having to pay hundreds of $$$ of legal fees just for visiting their office! Traffic law experts are on call 24/7 ready to answer any question you have.
Ask legal experts on JustAnswer and get answers immediately.