Usage of neon underglow lighting is governed by Mississippi Statutes, Title 63: Motor Vehicles and Traffic Regulations, Chapter 7: Equipment and Identification, General Provisions.
Is neon underglow legal in Mississippi?
Mississippi law does not restrict additional after-market vehicle lighting which would include neon underglow, but it does restrict colors which may be visible while the car is in motion. Therefore it's our conclusion that in Mississippi neon underglow is not illegal.
Since it's not specifically forbidden we consider neon car underglow legal assuming the following restrictions:
all lights visible from the front of the car must be white or amber
all lights visible from the side of the car must be amber
all lights visible from the back of the car must be red
license plate illumination must be white
no flashing lights may be used
There are no relevant MS state laws to restrict or prohibit installing underbody lights, meaning they are legal to use while not on a public road.
Mississippi vehicle lighting laws
Below are all relevant excerpts from Mississippi Vehicle Code that limit, restrict or allow certain aftermarket lights to be installed on vehicles.
§ 63-7-20 – Use of blue and red lights and alternating flashing headlights
(1) It is unlawful for any person, other than a law enforcement officer on duty, to use or display blue lights on a motor vehicle as provided for in Section 63-7-19.

(2) It is unlawful for any person to use or display red lights on a motor vehicle except as provided for in Section 63-7-19. It is not unlawful for the red lights authorized for private or department-owned vehicles used by firemen of volunteer fire departments, as provided in Section 63-7-19, to remain mounted on such vehicles when the lights are not in use.

(3) It is unlawful for any vehicle to use alternating flashing headlights except an emergency vehicle as provided in Section 63-7-19.

(4) A person violating this section is guilty of a misdemeanor and, upon conviction, shall be punished by a fine of not less than Fifty Dollars ($ 50.00) nor more than Five Hundred Dollars ($ 500.00).
§ 63-7-23 – Color of lighting devices
(1) The color of lighting devices shall be as follows:

(a) All front clearance lamps, and all side marker lamps, except the one on each side at or near the rear of any bus, truck, truck tractor, semitrailer, full trailer or pole trailer, shall when lighted display an amber color.

(b) No red lighting device of any character shall be mounted at any place other than on or near the rear of any bus, truck, truck tractor, semitrailer, full trailer or pole trailer. […]

(c) All rear clearance lamps, the side marker lamps on each side at or near the rear, and any other lamps mounted on the rear, on any bus, truck, truck tractor, semitrailer, full trailer or pole trailer shall when lighted display a red color. However, the stoplight or other warning device on the rear of any motor vehicle may be red or amber.

(d) Backing lights of any color may be mounted on the rear of any motor vehicle if the switch controlling such lights be so arranged that they may be turned on only when the vehicle is in reverse gear. Such backing lights when unlighted shall be so colored or otherwise arranged as not to reflect objectionable glare in the eyes of drivers of vehicles approaching from the rear.

(2) Auxiliary white lights mounted on or near the rear of a motor vehicle, or visible from the rear of the vehicle, shall not be prohibited under the provisions of this section if (a) the vehicle's gross weight is less than twelve thousand one (12,001) pounds, and (b) the lights are designed by the motor vehicle manufacturer or an after-market parts manufacturer so that they may only be illuminated whenever the vehicle is not in motion and the transmission of the vehicle is not capable of transmitting power to the wheels.

(3) No provision of this section shall be so construed as to prohibit the use of any white light or lights for the purpose of illuminating license plates.

(4) Any lamps illuminated when the vehicle is in motion, other than those expressly required or permitted by the provisions of this chapter, shall, if visible from the front, display a white or amber light; if visible from either side, display an amber light; and if visible from the rear, display a red light.
Penalties
Violation of vehicle lighting laws is a misdemeanor as per section 63-3-7. Using blue or red lights is punishable with a fine ranging from $50 to $500.
State of Mississippi Info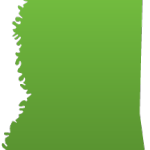 Mississippiis a U.S. state located in the Southern United States. Jackson is the state capital and largest city. The name of the state derives from the Mississippi River, which flows along its western boundary, whose name comes from the Ojibwe word misi-ziibi ("Great River"). Mississippi is the 32nd most extensive and the 31st most populous of the 50 United States.
Capital: Jackson
Population: 2,984,926
Area: 48,430 sq mi (125,443 km2)
Cities ▼
Cities in Mississippi: Jackson, Biloxi, Hattiesburg, Gulfport, Tupelo, Natchez, Vicksburg, Meridian, Pascagoula, Starkville, Ocean Springs, Southaven, Oxford, Clarksdale, Tunica, Ridgeland, Columbus, Greenville, Olive Branch, Jetts, Philadelphia, Pearl, Long Beach, Laurel, Bay St. Louis, Madison, Greenwood, Brandon, Corinth, Pass Christian, McComb, Picayune, Flowood, Moss Point, Clinton, Yazoo City, Hernando, Cleveland, Adelle, Canton, Grenada, Holly Springs, Batesville, Renova, Gloster, Kosciusko, Brookhaven, Harmontown, Horn Lake, New Albany
Counties ▼
Counties in Mississippi: Adams, Alcorn, Amite, Attala, Benton, Bolivar, Calhoun, Carroll, Chickasaw, Chocktaw, Claiborne, Clarke, Clay, Coahoma, Copiah, Covington, DeSoto, Forrest, Franklin, George, Greene, Grenada, Hancock, Harrison, Hinds, Holmes, Humphreys, Issaquena, Itawamba, Jackson, Jasper, Jefferson, Jefferson Davis, Jones, Kemper, Lafayette, Lamar, Lauderdale, Lawrence, Leake, Lee, Leflore, Lincoln, Lowndes, Madison, Marion, Marshall, Monroe, Montgomery, Nashoba, Netton, Nexubee, Oktibbeha, Panola, Pearl River, Perry, Pike, Pontotoc, Prentiss, Quitman, Rankin, Scott, Sharkey, Simpson, Smith, Stone, Sunflower, Tallahatchie, Tate, Tippah, Tishomingo, Tunica, Union, Walthall, Warren, Washington, Webster, Wilkinston, Winston, Yalobusha, Yazoo
---
Have questions about traffic or neon glow laws in Mississippi?
You can ask professional lawyers without having to pay hundreds of $$$ of legal fees just for visiting their office! Traffic law experts are on call 24/7 ready to answer any question you have.
Ask legal experts on JustAnswer and get answers immediately.