Usage of neon underglow lighting is governed by Illinois Vehicle Code, Chapter 12: Equipment of Vehicles, Article 2: Lights and Lamps.

Is neon underglow legal in Illinois?
Illinois law restricts vehicles from having additional lighting not specified in the Vehicle Code. Therefore it's our conclusion that in Illinois neon underglow is illegal.

In addition the law does not allow the usage of flashing lights nor emitting red color in front of the vehicle.
Furthermore the law forbids possession of any rotating, oscillating and flashing lights capable of producing an effect which may give the appearance of an emergency vehicle. Ensure you never use any illumination which is capable of displaying blue and/or red colors, or any kind of flashing underglow. An over-eager LEO could charge you with a Class A misdemeanor simply for possession of such a system.
Legally permitted aftermarket lights in the state of Illinois only include: up to two side cowl or fender lamps, and one running board courtesy lamp on each side of your car. These lights must emit either white or amber non-glaring light.
Illinois does make exceptions for motorcycles.
Illinois vehicle lighting laws
Below are all relevant excerpts from Illinois Vehicle Code that limit and restrict the usage of after-market lights including street glow on vehicles.
Sections 12-207 to 12-211 include information on permitted car lighting, and Section 12-212 specifically restricts all additional vehicle lighting not included in other sections.
Sec. 12-209. Additional Lighting Equipment.
(a) Any motor vehicle may be equipped with not more than 2 side cowl or fender lamps which shall emit an amber or white light without glare.

(b) Any motor vehicle may be equipped with not more than one running board courtesy lamp on each side thereof which shall emit a white or amber light without glare.

(c) Any motor vehicle may be equipped with one or more back-up lamps either separately or in combination with other lamps; but any such back-up lamp or lamps shall not be lighted when the motor vehicle is in forward motion.
Sec. 12-212. Special restrictions on lamps.
(a) No person shall drive or move any vehicle or equipment upon any highway with any lamp or device on the vehicle or equipment displaying a red light visible from directly in front of the vehicle or equipment except as otherwise provided in this Act.

(b) Subject to the restrictions of this Act, flashing lights are prohibited on motor vehicles except as a means for indicating a right or left turn as provided in Section 12-208 or the presence of a vehicular traffic hazard requiring unusual care as expressly provided in Sections 11-804 or 12-215.

(c) Unless otherwise expressly authorized by this Code, all other lighting or combination of lighting on any vehicle shall be prohibited.
Sec. 12-215. Oscillating, rotating or flashing lights on motor vehicles. Except as otherwise provided in this Code:
(a) The use of red or white oscillating, rotating or flashing lights, whether lighted or unlighted, is prohibited except on:

Law enforcement vehicles of State, Federal or local authorities;
A vehicle operated by a police officer or county
Vehicles of local fire departments and State or federal firefighting vehicles;
Vehicles which are designed and used exclusively as ambulances or rescue vehicles
[…]
Similar restrictions exist for blue and amber lights.
Sec. 12-215.1. Possession of oscillating, rotating, or flashing lights in motor vehicles; police equipment, markings, and other indicia of emergency vehicle authority.
(a) A person, except those given exceptions in Section 12-215 or 12-609 of this Code, may not possess or be in actual physical control of oscillating, rotating, or flashing lights or other indicia of emergency vehicle authority within any portion of a motor vehicle, including but not limited to wig-wags, red and blue LEDs, sirens, mounted or affixed devices or other equipment, markings or indicia of emergency vehicle authority.

(b) A person found guilty of violating this Section is guilty of a Class A misdemeanor.
Sec. 12-218. Auxiliary accent lighting on motorcycles.
(a) A motorcycle registered in this State may be equipped with, and a person operating the motorcycle may use, standard bulb running lights or light-emitting diode (L.E.D.) pods and strips as auxiliary lighting with the intent of protecting the driver.
(b) Auxiliary lighting authorized under subsection (a) of this Section:
(1) shall not project a beam of light of an intensity greater than 25 candlepower or its equivalent from a single lamp or single light-emitting diode (L.E.D.);
(2) shall not be directed horizontally;
(3) shall be so directed that no part of the beam will strike the level of the surface on which the motorcycle stands at a distance of more than 10 feet from the motorcycle;
(4) shall be directed towards the ground;
(5) shall not emit red or blue light;
(6) shall not be:
(A) blinking;
(B) flashing;
(C) oscillating; or
(D) rotating; and
(7) shall not be attached to the wheels of the motorcycle.
Penalties
As per 12-215.1, even mounting a vehicle with lights capable of producing red and blue illumination can be punishable and is considered a Class A misdemeanor. This is especially important for LED underglow which is typically capable of changing colors.
State of Illinois Info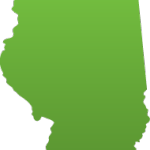 Illinois is a state in the Midwestern United States. It is the 5th most populous and 25th most extensive state, and is often noted as a microcosm of the entire country. With Chicago in the northeast, small industrial cities and great agricultural productivity in central and northern Illinois, and natural resources like coal, timber, and petroleum in the south, Illinois has a diverse economic base and is a major transportation hub. The Port of Chicago connects the state to other global ports from the Great Lakes, via the Saint Lawrence Seaway, to the Atlantic Ocean; as well as the Great Lakes to the Mississippi River, via the Illinois River. For decades, O'Hare International Airport has been ranked as one of the world's busiest airports. Illinois has long had a reputation as a bellwether both in social and cultural terms and politics.
Capital: Springfield
Population: 12,875,255
Area: 57,914 sq mi (149,998 km2)
Cities ▼
Cities in Illinois: Chicago, Aurora, Rockford, Joliet, Naperville, Springfield, Peoria, Elgin, Waukegan, Cicero, Champain, Bloomington, Decatur, Arlington Heights, Evanston, Schaumburg, Bolingbrook, Palatine, Skokie, Des Plaines, Orland Park, Tinley Park, Oak Lawn, Berwyn, Mount Prospect, Wheaton, Normal, Hoffman Estates, Oak Park, Downers Grove, Glenview, Belleville, Elmhurst, DeKalb, Moline, Lombard, Buffalo Grove, Urbana, Bartlett, Crystal Lake, Quincy, Streamwood, Carol Stream, Romeovile, Plainfield, Rock Island, Hanover Park, Carpentersville, Wheeling, Park Ridge, Calumet City, Addison, Glendale Heights, Pekin, Northbrook, Elk Grove Village, Danville, St. Charles, Woodridge, North Chicago
Counties ▼
Counties in Illinois: Cook, DuPage, Lake, Will, Kane, McHenry, Winnebago, St. Clair, Madison, Champaign, Sangamon, Peoria, McLean, Rock Island, Tazewell, Kendall, LaSalle, Kankakee, Macon, DeKalb, Vermilion, Adams, Williamson, Jackson, Whiteside, Boone, Coles, Ogle, Knox, Henry, Grundy, Macoupin, Stephenson, Franklin, Marion, Livingston, Jefferson, Woodford, Clinton, Fulton, Lee, Morgan, Bureau, Christian, Effingham, Randolph, Monroe, McDonough, Logan, Montgomery, Iroquis, Saline, Jersey, Jo Daviess, Shelby, Perry, Fayette, Douglas, Crawford, Hancock, Edgar, Union, Bond, Warren, Lawrence, Wayne, Piatt, DeWitt, Mercer, Pike, Clark, Richland, Massac, Carroll, Moultrie, Washington, Mason, White, Ford, Greene, Clay, Cass, Menard, Marshall, Johnson, Wabash, Cumberland, Jasper, Hamilton, Alexander, Schuyler, Henderson, Brown, Edwards, Pulaski, Putnam, Stark, Gallatin, Scott, Calhoun, Pope, Hardin
---
Have questions about traffic or neon glow laws in Illinois?
You can ask professional lawyers without having to pay hundreds of $$$ of legal fees just for visiting their office! Traffic law experts are on call 24/7 ready to answer any question you have.
Ask legal experts on JustAnswer and get answers immediately.