Usage of neon underglow lighting is governed by California Vehicle Code, Division 12 – Equipment of Vehicles, Chapter 2: Lighting Equipment.
Is neon underglow legal in California?
California law allows additional aftermarket vehicle lighting which includes neon underglow. In California neon underglow is legal, as long as you follow these restrictions:
Red color may not be visible from the front of the car
No flashing lights are permitted
Underglow must not emit more than 0.05 candela per square inch
All aftermarket lights must not be installed within 12 inches of vehicle's required lights
We also highly recommend avoiding blue, red and green colors on any aftermarket lights including underbody glow, as these colors are typically used on emergency vehicles.
In case your underglow system emits more than the allowed 0,05 candela/square inch, permitted colors are white and amber in the front, and red in the rear of your vehicle. Review your street glow lights package carefully, and if possible have the original packaging in your car as additional proof if required.
California vehicle lighting laws
Below are all relevant excerpts from California Vehicle Code (Div. 12, Chapter 2: Lighting Equipment) that limit, restrict or permit certain aftermarket lights to be installed on vehicles.
Article 7: Flashing and Colored Lights
Flashing lights are prohibited on vehicles except as otherwise permitted. […]
Besides turn signal lamps, exceptions for flashing lights include emergency and other vehicles as described in Article 7.
Article 10: Diffused Lights
(a) Any vehicle may be equipped with a lamp or device on the exterior of the vehicle that emits a diffused nonglaring light of not more than 0.05 candela per square inch of area.

(b) Any diffused nonglaring light shall not display red to the front, but may display other colors. A diffused nonglaring light shall not resemble nor be installed within 12 inches or in such position as to interfere with the visibility or effectiveness of any required lamp, reflector, or other device upon the vehicle. […]

No diffused nonglaring light on a vehicle shall resemble any official traffic control device.
Article 15: Light Restrictions and Mounting
This section applies to the color of lamps and to any reflector exhibiting or reflecting perceptible light of 0.05 candela or more per foot-candle of incident illumination. Unless provided otherwise, the color of lamps and reflectors upon a vehicle shall be as follows:

(a) The emitted light from all lamps and the reflected light from all reflectors, visible from in front of a vehicle, shall be white or yellow. […]

(b) The emitted light from all lamps and the reflected light from all reflectors, visible from the rear of a vehicle, shall be red […]

(c) All lamps and reflectors visible from the front, sides, or rear of a vehicle, except headlamps, may have any unlighted color, provided the emitted light from all lamps or reflected light from all reflectors complies with the required color. […]
State of California Info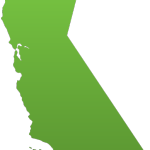 California is a state located on the West Coast of the United States. It is the most populous U.S. state, home to 1 out of 8 Americans, and is the third largest state by area (after Alaska and Texas). It is home to the nation's second and fifth largest census statistical areas (Greater Los Angeles area and San Francisco Bay Area, respectively), and eight of the nation's 50 most populated cities (Los Angeles, San Diego, San Jose, San Francisco, Fresno, Sacramento, Long Beach, and Oakland). The capital city is Sacramento.
Capital: Sacramento
Population: 38,041,430
Area: 163,696 sq mi (423,970 km2)
Cities ▼
Cities in California: Los Angeles, San Francisco, San Diego, Sacramento, San Jose, Oakland, Santa Barbara, Mountain View, Pasadena, Anaheim, Beverly Hills, Berkeley, Monterey, Long Beach, Palm Springs, Santa Monica, Hollister, Malibu, Fresno, Bakersfield, Palo Alto, Big Sur, Calabasas, Irvine, Newport Beach, Cupertino, Huntington Beach, Napa, Temecula, Modesto, Torrance, Santa Cruz, Laguna Beach, San Luis Obispo, Riverside, Sunnyvale, Stockton, Pleasanton, Ontario, Ventura, Fremont, Menlo Park, Orange, Carmel-by-the-Sea, Carlsbad, Burbank, Santa Rosa, Solvang, Eureka
Counties ▼
Counties in California: Alameda, Alpine, Amador, Butte, Calaveras, Colusa, Contra Costa, Del Norte, El Dorado, Fresno, Glenn, Humboldt, Imperial, Inyo, Kern, Kings, Lake, Lassen, Los Angeles, Madera, Marin, Mariposa, Mendocino, Merced, Modoc, Mono, Monterey, Napa, Nevada, Orange, Placer, Plumas, Riverside, Sacramento, San Benito, San Bernardino, San Diego, San Francisco, San Joaquin, San Luis Obispo, San Mateo, Santa Barbara, Santa Clara, Santa Cruz, Shasta, Sierra, Siskiyou, Solano, Sonoma, Stanislaus, Sutter, Tehama, Trinity, Tulare, Tuolumne, Ventura, Yolo, Yuba
---
Have questions about traffic or neon glow laws in California?
Ask professional lawyers without having to pay hundreds of $$$ of legal fees just for visiting their office! Traffic law experts are on call 24/7 ready to answer any question you have.
Type your question in the form provided or ask legal experts on JustAnswer directly!