Usage of neon underglow lighting is governed by New Mexico Statutes, Chapter 66 – Motor Vehicles, Article 3 – Equipment, Section 9: Equipment.
Is neon underglow legal in New Mexico?
New Mexico law does not restrict using additional vehicle lighting which would include neon underglow. Therefore it's our conclusion that in New Mexico neon underglow is not illegal, according to the following restrictions:
No red light may be visible from the front of the vehicle
No flashing lights are permitted
Furthermore we recommend avoiding colors green, red and blue on any aftermarket lights installed on your car, due to these colors typically being reserved for use on emergency vehicles.
There are no relevant NM laws which specifically restrict or prohibit installing underbody lighting, meaning we consider it legal to use it while driving.
New Mexico vehicle lighting laws
Below are all relevant excerpts from New Mexico Vehicle Code that limit, restrict or allow certain aftermarket lights to be installed on vehicles.
66-3-801. Equipment; prohibited acts.
[…] B. Nothing contained in Sections 66-3-801 through 66-3-887 NMSA 1978 shall be construed to prohibit the use of additional parts and accessories on any vehicle which are not inconsistent with the provisions of those sections. […]
66-3-829. Additional lighting equipment.
A. Any motor vehicle may be equipped with not more than two side cowl or fender lamps which shall emit an amber or white light without glare.

B. Any motor vehicle may be equipped with not more than one running-board courtesy lamp on each side thereof which shall emit a white or amber light without glare.

C. Any motor vehicle may be equipped with not more than two back-up lamps either separately or in combination with other lamps, but any such back-up lamp shall not be lighted when the motor vehicle is in forward motion.
66-3-835. Special restrictions on lamps.
[…] B. No person shall drive or move, upon any highway, any vehicle or equipment with a lamp or device thereon displaying a red light visible from directly in front of the center of the vehicle or equipment. This section does not apply to any vehicle upon which a red light visible from the front is expressly authorized or required by the Motor Vehicle Code [66-1-1 NMSA 1978].

C. Flashing lights are prohibited except as provided in Subsection D of this section and except on authorized emergency vehicles, school buses, snow-removal equipment and highway-marking equipment. Flashing red lights may be used as warning lights on disabled or parked vehicles and on any vehicle as a means of indicating a turn. […]
Penalties
Per section 66-3-801, operating a vehicle equipped in a manner which violates lighting regulations is a misdemeanor.
66-3-801. Equipment; prohibited acts.
A. Except as otherwise provided in this section, it is a misdemeanor for any person to drive or move or for the owner to cause or permit to be driven or moved on any highway any vehicle or combination of vehicles which is in such unsafe condition as to endanger any person or which does not contain those parts or is not at all times equipped with such lamps and other equipment in proper condition and adjustment as is required by Sections 66-3-801 through 66-3-887 NMSA 1978 or which is equipped in any manner that is in violation of those sections or for any person to do any act forbidden or fail to perform any act required under those sections. […]
State of New Mexico Info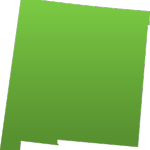 New Mexico is a state located in the southwest and western regions of the United States. New Mexico is also usually considered one of the Mountain States. New Mexico is the 5th most extensive, the 36th most populous, and the 6th least densely populated of the 50 United States.
Capital: Santa Fe
Population: 2,085,538
Area: 121,589 sq mi (315,194 km2)
Cities ▼
Cities in New Mexico: Albuquerque, Santa Fe, Las Cruces, Taos, Roswell, Rio Rancho, Alamogordo, Silver City, Ruidoso, Carlsbad, Farmington, Gallup, Clovis, Truth or Consequences, Hobbs, Las Vegas, Taos Ski Valley, Socorro, Red River, Española, Raton, Deming, Cloudcroft, Artesia, Los Lunas, Tucumcari, Angel Fire, Abiquiú, Pecos, Grants, Hatch, Aztec, Bernalillo, Tijeras, Sunland Park, Chama, Belen, Jemez Springs, Mesilla, Weed, Santa Rosa, Pie Town, Corrales, Lordsburg, Portales, New Mexico, Cimarron, Fort Sumner, Vermejo Park Ranch, Questa, Elephant Butte
Counties ▼
Counties in New Mexico: Bernalillo, Catron, Chaves, Cibola, Colfax, Curry, De Baca, Dona Ana, Eddy, Grant, Guadalupe, Harding, Hidalgo, Lea, Lincoln, Los Alamos, Luna, McKinley, Mora, Otero, Quay, Rio Arriba, Roosevelt, Sandoval, San Juan, San Miguel, Santa Fe, Sierra, Socorro, Taos, Torrance, Union, Valencia
---
Have questions about traffic or neon glow laws in New Mexico?
You can ask professional lawyers without having to pay hundreds of $$$ of legal fees just for visiting their office! Traffic law experts are on call 24/7 ready to answer any question you have.
Ask legal experts on JustAnswer and get answers immediately.