Usage of neon underglow lighting is governed by Washington Administrative Code, Title 204: State Patrol (Equipment), Chapter 204-21: Lighting Requirements.
Is neon underglow legal in Washington?
Washington law restricts additional aftermarket vehicle lighting which includes neon underglow. In Washington neon underglow is not legal.
Using car underglow is legal only when parked on a private property, but ensure your lights are not displaying red or blue colors, nor flashing or rotating in any way.
Washington vehicle lighting laws
Below are all relevant excerpts from Washington Vehicle Code that limit, restrict or allow certain aftermarket lights to be installed on vehicles.
WAC 204-21-230 – Lighting equipment prohibited.
[…] (a) If a vehicle is in motion on a public roadway, the vehicle must not:

(i) Display aftermarket neon lighting devices.

[…] (b) If a vehicle is not in motion and parked on private property, the vehicle may use aftermarket lighting except as outlined under RCW 46.37.180. […]

(3) Red emergency lights are prohibited on any vehicle other than an authorized emergency vehicle, a law enforcement vehicle, an emergency tow truck as defined in WAC 204-21-020(8), school buses, and private carrier buses.

(4) Blue lights are prohibited on any vehicle other than a law enforcement vehicle as defined in WAC 204-21-020.

(5) Flashing white lights are prohibited on any vehicle other than authorized emergency vehicles, law enforcement vehicles, school buses, and emergency tow trucks as defined in WAC 204-21-020.
Punishment
Penalty for violation of vehicle lighting regulations is a $124 fine.
State of Washington Info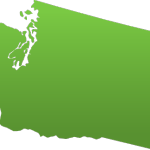 Washington is a state in the Pacific Northwest region of the United States located north of Oregon, west of Idaho, and south of the Canadian province of British Columbia on the coast of the Pacific Ocean. Named after George Washington, the first President of the United States, the state was carved out of the western part of the Washington Territory which had been ceded by Britain in 1846 by the Oregon Treaty as a settlement of the Oregon Boundary Dispute. It was admitted to the Union as the 42nd state in 1889. Washington is the 18th most extensive and the 13th most populous of the 50 United States.
Capital: Olympia
Population: 6,897,012
Area: 71,300 sq mi (184,827 km2)
Cities ▼
Cities in Washington: Seattle, Tacoma, Spokane, Bellevue, Olympia, Redmond, Everett, Bellingham, Renton, Yakima, Kirkland, Vancouver, Puyallup, Issaquah, Federal Way, Bothell, Lynnwood, Bremerton, Kennewick, Kent, Auburn, Tri-Cities, Forks, Wenatchee, Port Angeles, Richland, Gig Harbor, Walla Walla, Pasco, Pullman, Port Townsend, Woodinville, Edmonds, Marysville, Anacortes, Sequim, Mercer Island, Mount Vernon, Lakewood, Ellensburg, Bainbridge Island, Leavenworth, Poulsbo, Lacey, Tukwila, SeaTac, Shoreline, Fort Lewis, Sammamish, Port Orchard
Counties ▼
Counties in Washington: Adams, Asotin, Benton, Chelan, Clallam, Clark, Columbia, Cowlitz, Douglas, Ferry, Franklin, Garfield, Grant, Grays Harbor, Island, Jefferso, King, Kitsap, Kittitas, Klickitat, Lewis, Lincoln, Mason, Okanogan, Pacific, Pend Oreille, Pierce, San Juan, Skagit, Skamania, Snohomish, Spokane, Stevens, Thurston, Wahkiakum, Walla Walla, Whatcom, Whitman, Yakima
---
Have questions about traffic or neon glow laws in Washington?
You can ask professional lawyers without having to pay hundreds of $$$ of legal fees just for visiting their office! Traffic law experts are on call 24/7 ready to answer any question you have.
Ask legal experts on JustAnswer and get answers immediately.