Usage of neon underglow lighting is governed by Rhode Island General Laws, Title 31: Motor and Other Vehicles, Chapter 31-24: Lighting Equipment and Reflectors.
Is neon underglow legal in Rhode Island?
Rhode Island law does not restrict additional vehicle lighting which would include neon underglow. Therefore it's our conclusion that in Rhode Island neon underglow is not illegal, but ensure you avoid the following restrictions:
License plate illumination must be white
Red lights in front of the car are expressly prohibited
Flashing lights are not permitted (except for authorized vehicles, or for signalling a traffic hazard or turn)
We strongly recommend avoiding colors blue and red on all aftermarket lights installed on your car as these are used by police vehicles.
There are no relevant RI laws which specifically restrict or prohibit installing car underglow, meaning we consider it legal to use it while driving.
Rhode Island vehicle lighting laws
Below are all relevant excerpts from Rhode Island Vehicle Code that limit, restrict or allow certain aftermarket lights to be installed on vehicles.
§ 31-24-9  Illumination of rear registration plate […]
Either a tail lamp or a separate lamp shall be constructed and placed as to illuminate with a white light the rear registration plate […]
§ 31-24-30  Red lights in front prohibited
No person shall drive or move any vehicle or equipment upon any highway with any lamp or device on it displaying a red light visible from directly in front of the center of it. […]
§ 31-24-31  Flashing lights – Forward viewing or rotary beam lights
(a) Flashing lights are prohibited, except on an authorized emergency vehicle, school bus, snow removal equipment, or on any vehicle as a means for indicating a right or left turn. However, the requirements of § 31-24-33 [Vehicles stopped on unlighted highways] shall be deemed to be satisfied if the vehicle is equipped with lamps at the front mounted at the same level, displaying simultaneously flashing white or amber lights, and at the rear mounted at the same level, and displaying simultaneously flashing red lights, all of which lights shall be visible from a distance of not less than five hundred feet (500′).

(b) Forward viewing or rotating beam lights may be installed on and shall be restricted to the following categories of vehicles, and these lights shall be of color designated: [emergency response vehicles, wrecker trucks, safety and maintenance vehicles, etc.] […] (3) Police units, state and local: Center rotating beam lights: Blue or red; Outboard mounted lights: Blue or red.
Penalties
Violation of the sections above is subject to penalties described in Chapter 31-41.1 – Adjudication of Traffic Offenses.
State of Rhode Island Info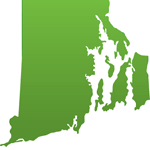 Rhode Island is a state in the New England region of the United States. Rhode Island is the smallest in area, the eighth least populous, but the second most densely populated of the 50 US states behind New Jersey. Rhode Island is bordered by Connecticut to the west and Massachusetts to the north and east, and it shares a water boundary with New York's Long Island to the southwest. Rhode Island's official nickname is "The Ocean State", a reference to the State's geography, since the state has several large bays and inlets that amount to about 14% of its total area.
Capital: Providence
Population: 1,050,292
Area: 1,214 sq mi (3,140 km2)
Cities ▼
Cities in Rhode Island: Providence, Newport, Warwick, Cranston, Pawtucket, Woonsocket, North Kingstown, East Providence, Narragansett, Westerly, East Greenwich, Cumberland, Bristol, South Kingstown, North Providence, Smithfield, Coventry, Portsmouth, Middletown, Central Falls, West Warwick, Barrington, Tiverton, Johnston, Charlestown, Lincoln, Jamestown, Scituate, Watch Hill, Rhode Island, Little Compton, North Smithfield, Burrillville, Kingston, Warren, Wickford, Glocester, Exeter, Hopkinton, West Greenwich, Richmond, Rumford, Pawtuxet Village, Riverside, Chepachet, Foster, Saunderstown, Kingston Station, Lime Rock, New Shoreham, Bristol Ferry
Counties ▼
Counties in Rhode Island: Bristol, Kent, Newport, Providence, Washington
---
Have questions about traffic or neon glow laws in Rhode Island?
You can ask professional lawyers without having to pay hundreds of $$$ of legal fees just for visiting their office! Traffic law experts are on call 24/7 ready to answer any question you have.
Ask legal experts on JustAnswer and get answers immediately.