Usage of neon underglow lighting is governed by New York Laws, VAT – Vehicle & Traffic, Title 3: […] Equipment […], Article 9: Equipment of Motor Vehicles and Motorcycles, Section 375: Colored and Flashing Lights.
Is neon underglow legal in New York?
New York law restricts the use of additional vehicle lighting which includes neon underglow, unless the color is white. Therefore it's our conclusion that in New York neon underglow is not illegal, assuming you adhere to the following restrictions:
Only allowed color for non-mandatory vehicle lights is white
No rotating, flashing, oscilating or moving lights are permitted
License plate illumination must be white
All after-market lighting including neon underbody glow can only be white-colored, and all other colors are against the law.
If stopped by a police officer and in case of LED underglow which can change colors, we strongly suggest never telling you can change colors. Even mounting lights capable of displaying any color other than white could be considered against the law in New York. Never use blue, red or green underglow as these colors are used on emergency vehicles.
There are no relevant NY laws which specifically restrict or prohibit installing car underglow, meaning we consider it legal to use it while driving.
New York vehicle lighting laws
Below are all relevant excerpts from New York Vehicle Code that limit, restrict or allow certain aftermarket lights to be installed on vehicles.
§ 375 (41). Colored and flashing lights.
41. Colored and flashing lights. The provisions of this subdivision shall govern the affixing and display of lights on vehicles, other than those lights required by law.

1. No light, other than a white light, and no revolving, rotating, flashing, oscillating or constantly moving white light shall be affixed to, or displayed on any vehicle […]

8. The provisions of this subdivision shall not be applicable to the driver of a vehicle from another state or foreign jurisdiction which vehicle has colored lights affixed but not revolving, rotating, flashing, oscillating or constantly moving if the lights on such vehicle comply with the laws of the state or home foreign jurisdiction in which the vehicle is registered.
Subsection 8 allows the use of all colors on aftermarket vehicle lights such as neon underglow in case the vehicle is registered in another state where such lights are permitted.
§ 375 (2.)
2. (a) Every motor vehicle except a motorcycle, driven upon a public highway during the period from one-half hour after sunset to one-half hour before sunrise or at any other time when windshield wipers are in use […] shall display […] 4. if required to display a number plate on the rear, a white light which shall illuminate the numerals on such plate in such manner as to render such numerals legible for at least fifty feet from the rear. […]

(c) No lamp shall be used on a motor vehicle having a light source greater than thirty-two candle power, unless such lamp is approved by the commissioner as provided by this section.
State of New York Info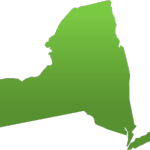 New York is a state in the Northeastern region of the United States. New York is the 27th-most extensive, the 3rd-most populous, and the 7th-most densely populated of the 50 United States. New York is bordered by New Jersey and Pennsylvania to the south, and by Connecticut, Massachusetts and Vermont to the east. The state has a maritime border with Rhode Island east of Long Island, as well as an international border with the Canadian provinces of Ontario to the west and north, and Quebec to the north. The state of New York is often referred to as New York State to distinguish it from New York City.
Capital: Albany
Population: 19,570,261
Area: 54,556 sq mi (141,300 km2)
Cities ▼
Cities in New York: New York City, Albany, Buffalo, Syracuse, Brooklyn, Rochester, Yonkers, Ithaca, Niagara Falls, White Plains, Saratoga Springs, Schenectady, Binghamton, Poughkeepsie, New Rochelle, Troy, Utica, Amityville, Town of Hempstead, Lake Placid, Plattsburgh, Huntington, Newburgh, Levittown, Scarsdale, Watertown, Great Neck, Elmira, Tarrytown, Cooperstown, Middletown, Garden City, Brookhaven, Islip, Smithtown, Canandaigua, Sleepy Hollow, Woodstock, Amherst, Bronxville, Babylon, Long Beach, Clifton Park, Glens Falls, Nyack, Mount Vernon, New Paltz, Town of Oyster Bay, Beacon, Rhinebeck
Counties ▼
Counties in New York: Albany, Allegany, Broome, Cattaraugus, Cayuga, Chautauqua, Chemung, Chenango, Clinton, Columbia, Cortland, Delaware, Dutchess, Erie, Essex, Franklin, Fulton, Genesee, Greene, Hamilton, Herkimer, Jefferson, Lewis, Livingston, Madison, Monroe, Montgomery, Nassau, Niagara, Oneida, Onondaga, Ontario, Orange, Orleans, Oswego, Otsego, Putnam, Rensselaer, Rockland, Saratoga, Schenectady, Schoharie, Schuyler, Seneca, St , Lawrence, Steuben, Suffolk, Sullivan, Tioga, Tompkins, Ulster, Warren, Washington, Wayne, Westchester, Wyoming, Yates
---
Have questions about traffic or neon glow laws in New York?
You can ask professional lawyers without having to pay hundreds of $$$ of legal fees just for visiting their office! Traffic law experts are on call 24/7 ready to answer any question you have.
Ask legal experts on JustAnswer and get answers immediately.