Usage of neon underglow lighting is governed by Maryland Code – Transportation, Title 22: Equipment of Vehicles, Subtitle 2: Lamps and Other Lighting Equipment.

Is neon underglow legal in Maryland?
Maryland law does not prevent using additional vehicle lighting which would include neon underglow. Therefore it's our conclusion that in Maryland neon underglow is not illegal.
Make sure you adhere to the following restrictions:
No red or blue lights may be visible from the front of the vehicle
Only permitted color for additional after-market lights visible from the rear of the vehicle is red
No flashing lights are permitted
License plate illumination must be white
We also highly recommend completely avoiding blue and red colors on any aftermarket lights including underbody glow, as these colors are typically used on emergency vehicles.
Maryland also permits one running board light on each side of the vehicle which must emit non-glaring white or amber light, and up to two side cowl or fender lamps emitting white or amber light and located at or near the front of the car.
There are no relevant MD laws which specifically restrict or prohibit installing car underglow, meaning we consider it legal to use it while driving.
Maryland vehicle lighting laws
Below are all relevant excerpts from Maryland Vehicle Code that limit, restrict or allow certain aftermarket lights to be installed on cars or other vehicles.
§ 22-227 – Special restrictions on lamps
(b) Red or blue light visible from front. — Except as required or permitted in § 22-218 of this subtitle or in the rules governing the operation of emergency vehicles and school vehicles, a person may not drive or move any vehicle or equipment on any highway with any lamp or device on it that displays a red or blue light visible from directly in front of its center.

(c) Flashing lights. — Flashing lights are prohibited except as required or permitted in the Maryland Vehicle Law.

(d) White light visible from rear. — Except as authorized elsewhere in this subtitle, a person may not drive or move any vehicle or equipment on any highway with any lamp or device on it that displays a white light visible directly from its rear. […]

(f) Color of lights on rear of vehicle. — All lighting devices and reflectors mounted on the rear of any vehicle shall display or reflect a red color, except the stoplight or other signal device, which may be red, amber, or yellow, and except that the light illuminating the registration plate shall be white and the light emitted by a backup lamp shall be white or amber.
§ 22-221 – Additional lighting equipment
(a) Side cowl or fender lamps. — Any motor vehicle may be equipped with not more than two side cowl or fender lamps that:

(1) Emit an amber or white light without glare; and

(2) Are located at or near the front of the vehicle.

(b) Running-board courtesy lamps. — Any motor vehicle may be equipped on each side of the vehicle with not more than one running-board courtesy lamp that emits a white or amber light without glare.

(c) Backup lamps. — Any motor vehicle may be equipped with one or more backup lamps, either separately or in combination with other lamps, but any such backup lamp may not be lighted when the motor vehicle is in forward motion.
To stay completely within the law you may want to consider using white or amber lights on the front and front sides of the car, and red lights in the rear sides and rear of the vehicle. Provisions above governing these colors concern other lights (see: Vehicle Light Definitions), but may be interpreted as relevant to neon underglow as well.
Penalties
Violation of Maryland Vehicle Code is punishable by a traffic citation with a fine of $40-$50.
State of Maryland Info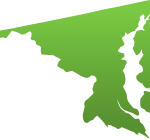 Maryland is a U.S. state located in the Mid-Atlantic region of the United States, bordering Virginia, West Virginia, and the District of Columbia to its south and west; Pennsylvania to its north; and Delaware to its east. Maryland was the seventh state to ratify the United States Constitution, and has three occasionally used nicknames: the Old Line State, the Free State, and the Chesapeake Bay State. Maryland is one of the smallest states in terms of area, but it remains one of the most populous as well as one of the most densely populated states of the United States. The state's largest city is Baltimore, and its capital is Annapolis.
Capital: Annapolis
Population: 5,884,563
Area: 12,407 sq mi (32,133 km2)
Cities ▼
Cities in Maryland: Baltimore, Annapolis, Rockville, Ocean City, Gaithersburg, Frederick, Hagerstown, National Harbor, Laurel, College Park, Bowie, Salisbury, Hyattsville, Greenbelt, Cumberland, St. Michaels, Havre de Grace, Walden Farms, Bel Air, Upper Marlboro, Takoma Park, Easton, Westminster, Chevy Chase, Montgomery Village, Elkton, Kensington, Landover, Aberdeen, Chestertown, Frostburg, Cambridge, Millersville, Capitol Heights, La Plata, Lanham, Berlin, Oxon Hill, Hanover, Sherbert, Sykesville, Hunt Valley, Oxford, North Beach, Boonsboro, Emmitsburg, Mount Airy, Chesapeake Beach, Boyds, Burkittsville
Counties ▼
Counties in Maryland: Allegany, Anne Arundel, Baltimore, Calvert, Caroline, Carroll, Cecil, Charles, Dorchester, Frederick, Garrett, Harford, Howard, Kent, Montgomery, Prince George's, Queen Anne's, Saint Mary's, Somerset, Talbot, Washington, Wicomico, Worcester
---
Have questions about traffic or neon glow laws in Maryland?
You can ask professional lawyers without having to pay hundreds of $$$ of legal fees just for visiting their office! Traffic law experts are on call 24/7 ready to answer any question you have.
Ask legal experts on JustAnswer and get answers immediately.