Usage of neon underglow lighting is governed by Wisconsin State Legislature, Chapter 347: Equipment of Vehicles, Subchapter 2: Lighting Equipment.
Is neon underglow legal in Wisconsin?
Wisconsin law does not restrict additional aftermarket vehicle lighting which would include neon underglow. Therefore it's our conclusion that in Wisconsin neon underglow is not illegal, as long as you avoid the following restrictions:
all lights visible from the front of the car should be white or amber
all lights visible from the back of the car should be red
no flashing lights may be used
no blue lights are permitted
license plate illumination must be white
To stay completely within the law you may consider using red-colored underglow in the back, and white or amber on the front part of the car. We do not consider those regulations relevant for underglow, but an over-eager officer may fine you regardless.
Blue lights are explicitly prohibited, but we also strongly suggest avoiding red color as well as not to be mistaken for an emergency vehicle.
State of WI does additionally make specific exceptions for motorcycles, where underbody glow is permitted as long as the colors are not blue, red or amber. Additionally the lights may not flash, rotate or oscillate in any way.
There are no relevant WI laws which specifically restrict or prohibit installing car underglow, meaning we consider it legal to use it while driving.
Wisconsin vehicle lighting laws
Below are all relevant excerpts from Wisconsin Vehicle Code that limit, restrict or allow certain aftermarket lights to be installed on vehicles.
347.02 Applicability of chapter.
[…] (2) No provision of this chapter requiring or prohibiting certain types of equipment on a vehicle is applicable when such vehicle is not operated upon or occupying a highway. […]

(3) Nothing in this chapter shall be construed to prohibit the use of additional parts and accessories on any vehicle not inconsistent with this chapter.
This provision is important to notice as it essentially permits using additional aftermarket lighting devices as long as they're not in violation of other provisions or regulations.
347.07  Special restrictions on lamps and the use thereof.
(2) Except as provided in sub. (3), or as otherwise expressly authorized or required by this chapter, no person shall operate any vehicle or equipment on a highway which has displayed thereon:
(a) Any color of light other than white or amber visible from directly in front; or
(b) Any color of light other than red on the rear; or
(c) Any flashing light.
(3) A motorcycle may be equipped with a lighting device that illuminates the ground directly beneath the motorcycle if all of the following apply:
(a) The lighting device is not visible to approaching vehicles.
(b) The lighting device does not display a red, blue, or amber light.
(c) The lighting device does not display a flashing, oscillating, or rotating light.
347.13  Tail lamps and registration plate lamps.
[…] (3) No person shall operate on a highway during hours of darkness any motor vehicle upon the rear of which a registration plate is required to be displayed unless such motor vehicle is equipped with a lamp so constructed and placed as to illuminate with a white light the rear registration plate […]
347.25  Special warning lamps on vehicles.
(1) […] authorized emergency vehicle may be equipped with one or more flashing, oscillating, or rotating red lights, except that ambulances, fire department equipment […]

(a) A police vehicle under s. 340.01 (3) (a) may be equipped with a blue light and a red light which are flashing, oscillating or rotating. […]

4) No vehicle may be equipped with or display any blue colored light or lamp unless the vehicle is used in police work authorized by the state or a political subdivision of the state or is used by a fire department as authorized under sub. (1s). […]
347.26  Restrictions on certain optional lighting equipment.
[…] (11) Flashing warning lamps.

(a) Any vehicle may be equipped with lamps which may be used for the purpose of warning the operators of other vehicles of the presence of a vehicular traffic hazard […] shall display simultaneously flashing white or amber lights, or any shade of color between white and amber. […]
Penalties
As per Article 347.30 violating vehicle lighting regulations is punishable by a $10-$200 fine.
347.30  Penalty for violating lighting equipment requirements.
(1) Any person violating s. 347.06 or 347.13 (2), (3) or (4) may be required to forfeit not less than $10 nor more than $20 for the first offense and not less than $25 nor more than $50 for the 2nd or subsequent conviction within a year.
(2) Any person violating ss. 347.03, 347.07 to 347.12, 347.13 (1) or 347.14 to 347.29 may be required to forfeit not less than $10 nor more than $200.
State of Wisconsin Info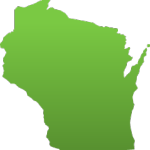 Wisconsin is a U.S. state located in the north-central United States, in the Midwest and Great Lakes regions. It is bordered by Minnesota to the west, Iowa to the southwest, Illinois to the south, Lake Michigan to the east, Michigan to the northeast, and Lake Superior to the north. Wisconsin is the 23rd state by total area and the 20th most populous. The state capital is Madison, and its largest city is Milwaukee, which is located on the western shore of Lake Michigan. The state comprises 72 counties.
Capital: Madison
Population: 5,726,398
Area: 65,497.82 sq mi (169,639 km2)
Cities ▼
Cities in Wisconsin: Milwaukee, Madison, Green Bay, Wisconsin Dells, Oshkosh, Appleton, Eau Claire, Kenosha, Waukesha, Wausau, La Crosse, Racine, Sheboygan, Manitowoc, Stevens Point, Fond du Lac, Lake Geneva, Wauwatosa, Janesville, Neenah, New Berlin, West Bend, Menomonee Falls, Beloit, Brookfield, New Glarus, Chippewa Falls, Sun Prairie, De Pere, Mequon, West Allis, Cedarburg, Marshfield, Menomonie, Pleasant Prairie, Port Washington, Oak Creek, Rhinelander, Bell Center, Baraboo, Sturgeon Bay, Wisconsin Rapids, Hustler, Kaukauna, River Falls, Superior, Kohler, Bayfield, Fitchburg, Muskego
Counties ▼
Counties in Wisconsin: Adams, Ashland, Bad Ax, Barron, Bayfield, Brown, Buffalo, Burnett, Calumet, Chippewa, Clark, Columbia, Crawford, Dallas, Dane, Dodge, Door, Douglas, Dunn, Eau Claire, Florence, Fond Du Lac, Forest, Grant, Green, Green Lake, Iowa, Iron, Jackson, Jefferson, Juneau, Kenosha, Kewaunee, La Crosse, La Pointe, Lafayette, Langlade, Lincoln, Manitowoc, Marathon, Marinette, Marquette, Menominee, Milwaukee, Monroe, Oconto, Oneida, Outagamie, Ozaukee, Pepin, Pierce, Polk, Portage, Price, Racine, Richland, Rock, Rusk, Sauk, Sawyer, Shawano, Sheboygan, St. Croix, Taylor, Trempealeau, Vernon, Vilas, Walworth, Washburn, Washington, Waukesha, Waupaca, Waushara, Winnebago, Wood
---
Have questions about traffic or neon glow laws in Wisconsin?
You can ask professional lawyers without having to pay hundreds of $$$ of legal fees just for visiting their office! Traffic law experts are on call 24/7 ready to answer any question you have.
Ask legal experts on JustAnswer and get answers immediately.